TRAVEL PHOTOGRAPHY - A Royal Photographic Society Distinction
My all-consuming interest in photography in general and travel photography in particular goes back to the late 1960's when on a misty Friday evening I was travelling by ferry, from Mallaig on the Scottish mainland, to Armadale on the Isle of Skye. It was already dusk when the island came into view. The island was surrounded by a clinging, eerie, atmospheric mist. I knew then why it was known as "The Misty Isle". At that time I was not a serious photographer but I did have a camera loaded with Kodachrome K25 transparency film, without doubt one of the best colour slide films ever produced. I did a manual calculation on exposure from the symbols on my Kodak Bantam 3 camera and, with fingers crossed, took a picture.
When the film was processed the only way I had of looking at the images was on a hand held viewer. This did allow me to see my "Misty Isle" but, in all honesty, it did not really excite me.
A year or so later I bought a projector and screen and projected the transparency for the first time. I was captivated by the subtle colours and sense of a third dimension and instantly transported back to that time and place. I had stumbled across Photo Travel photography without knowing what it was. My meagre efforts had, for me, captured a sense of that time and place and recalled the memory of that occasion.
That single image was the prime factor that drew me into serious photography.
Travel photography can be defined as "Images that express a feeling of a time and place, portray a land, its people or a culture in its natural state. They have no geographical limitations. Ultra close-ups which lose their identity, studio type model shots or photographic manipulations which significantly change the true situation of the image are not acceptable".
Travel photography is a very special branch of documentary visual journalism that, quite rightly, warrants its own category within the Royal Photographic Society.
What makes a good travel image? Landscapes, seascapes, cityscapes, buildings, environmental portraits, still life, events with people doing things, virtually anything that can be broadly covered by the definition of Travel photography will qualify. They should, if in a panel, have a theme that relates them to a region, location or event.
Many photographers, who have gained an LRPS, and are wondering which direction they should follow for an Associateship, should be in a very strong position to start building a panel in the Travel category. There is no need to journey to the four corners of the world to get successful images, do so if you wish, and many of us do, however excellent Travel images can be captured on your doorstep.
The advantage of "doorstep" photography is that you can revisit your chosen location time and time again until you get it right. Not everyone can be, for example, a successful Natural History or Visual Art photographer however most dedicated photographers can record excellent Travel images. The Travel panel possibilities near to home or a little further afield in your own country are virtually endless and limited only by the individual's imagination.
Possibly the most difficult step of all is defining what your project will be. Most successful Distinction panels for the Associateship and Fellowship are built around solid project statements or statements of intent.
The following images are examples of Travel photography.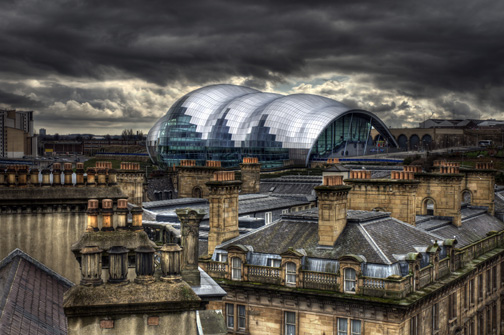 Sage Emerging – Newcastle upon Tyne
"Sage Emerging" is a cityscape image of Newcastle upon Tyne shot from the Tyne Bridge. It was part of a project on "The Face of Newcastle upon Tyne".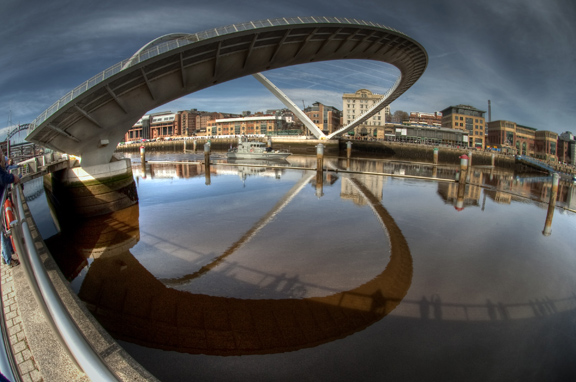 Millennium Eye Open – Newcastle upon Tyne, Quayside
"Millennium Eye Open" is another image from the same project. It shows the Millennium Bridge opening to allow a naval vessel to pass through. The two images could form the basis of a project focusing on the city of Newcastle upon Tyne.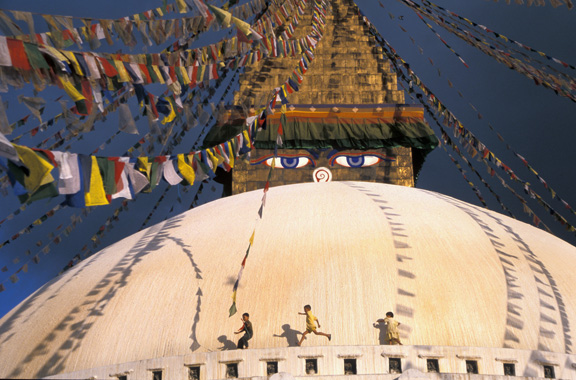 Forever Gazing Down – Bodhnath, Nepal
"Forever Gazing Down" was photographed at Bodhnath Stupa in Nepal. It shows the Stupa, a place of worship for Buddhists, and life being lived by the children playing around it. It would fit nicely into a set of images aiming to show the land and culture of Nepal.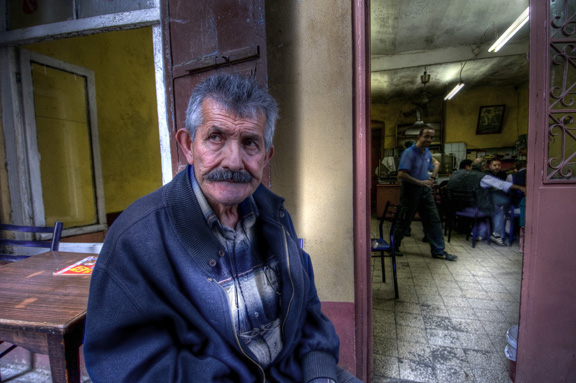 Men's Club Istanbul
In Travel photography it is said a "fly on the wall" approach is the best way to capture "life being lived" images of people. This shows a men's club in Istanbul with the obligatory minder on the door. It has a high story telling content.

Men at Work – Istanbul
An image "shot from the hip" of a discussion group in the backstreets of Istanbul. It was captured by the use of a wide angle lens and cable release so allowing me to take the picture without the group paying me any attention.
These two images could fit into a panel on Istanbul.
Let's look at three successful but very different Travel panels.
Bob Turner had gained his LRPS and was having difficulty deciding on a project for, or the way forward to, the Associateship until he came up with the following project statement:
"The Quayside at Gateshead/Newcastle upon Tyne was, not long ago, a depressed area of decaying buildings which were relics from the 19th Century.
This changed following regeneration of the area which transformed it into a cultural centre that attracts visitors from all over the world.
My aim with this panel was to capture a feeling of the time and place, showing how it is today, at the beginning of the 21st Century.
I have concentrated mainly on architectural shapes and colours. All images were taken within a 200 yard radius of the Gateshead Millennium Bridge and the Baltic Centre for Contemporary Art"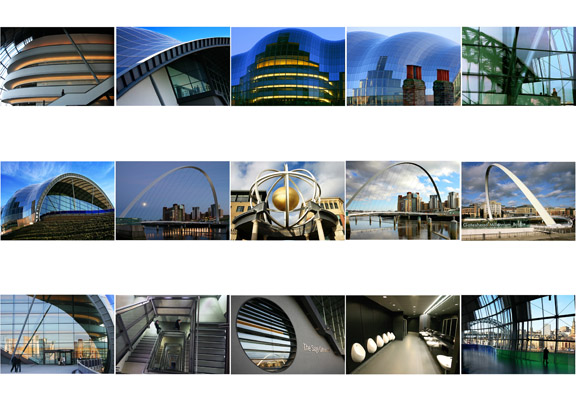 Bob Turner - ARPS Panel layout
At that time Bob's teenage daughter was playing in an orchestra in the Sage, a centre for performing arts next door to the Baltic, so he visited the area on a regular basis at least twice a week when acting as chauffeur. This allowed him to build his panel over a 12 month period until he was satisfied he had achieved his objective and his panel matched his statement of intent.
Although the Distinctions Handbook states a maximum of 150 words in a statement of intent Bob had said all he needed to say in less than 100 words. Don't feel it necessary to pad out a statement to fit the 150 word maximum. It should paint a concise picture of what you intend to show the assessors. Long winded flowery statements should be avoided.
The images were superbly printed approximately 13 inches on the longest side on lustre paper and mounted over-matted on 20x16inch white mounts.
They showed variety within a very tight location.
For someone who knows the area they were an accurate recording of the place at its best in terms of design and lighting. Anyone who did not know the location couldn't but help want to visit it. This is the acid test of successful Travel photography.
…………………………..
Carol Palmer's panel started with the following statement:
"My impressions of a desert had always been that of an expanse of yellow sand, set against strong blue skies, devoid of vegetation, extremely hot and lit by hard contrasty lighting. Photographically, I imagined, quite boring.
This changed when I visited the Namib-Naukluft region of Namibia. Ever changing lighting conditions along with ever changing skies had a dramatic effect on the colour & form of the land. After rains, if there were any in the year, grasses & plants appeared forming a carpet on the desert floor.
My aim, with this panel, was to capture an impression of the Namib-Naukluft desert, at different times of the day & year.
The photographs were taken on two visits, totalling four days, spread over an eighteen month period. The majority of the images were taken within a five mile radius of Sossusvlei"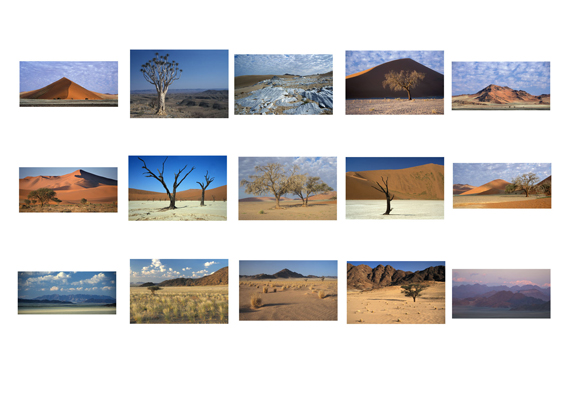 Carol Palmer - ARPS Panel layout
Carol had previously visited Namibia and saw the potential in the desert area for a Travel panel. From a subsequent visit, knowing the type of images she needed, she was able to complete her panel.
She carefully selected images which showed the variation in landscape, colour and lighting over the areas two main "seasons". The images, approximately 13 inches on the longest side, were printed on satin paper and mounted on white 20x16 inch mounts.
Individually and as a panel they were quite stunning.
…………………………..
Jane Tregelles also started with a clear concise statement of intent:
"Bath is a wonderful Georgian city with distinctive architecture and impeccable historic credentials making it one of England's most beautiful places to visit. I wanted to produce a set of images that would portray Bath as a place of timeless beauty and a "must see" destination. I wanted to capture the atmosphere and essence of Bath"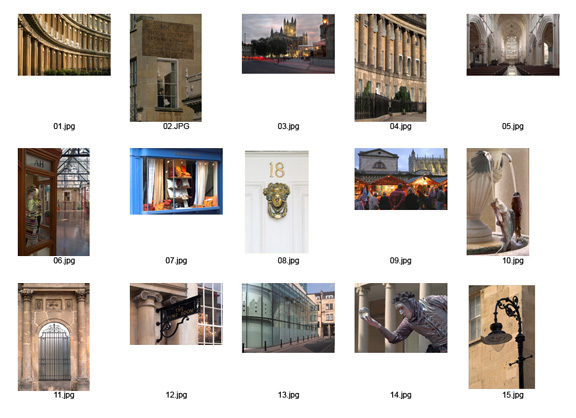 Jane Tregellas - ARPS Panel Layout
Without doubt Jane captured the essence of Bath, a location to which she had easy access at any time. She was able to carefully select her subjects and build a panel to deliver her statement of intent.
The images were printed and presented to a high technical standard, a prerequisite for the Associateship.
Anyone who knows Bath would look at the panel and agree that it summed up the location. Those who had never visited the city would be encouraged to so by the images.
…………………………….
All three panels were based on concise unambiguous statements of intent. The photographers knew what they needed to capture, not necessarily the particular images but ones which would fit the theme and capture that all important feeling of the time and place.
If you are a Licentiateship of the Society and are interested in working towards an Associateship ask yourself the question "Could I successfully capture an event, location or journey and produce 15 images of the required standard?" If the answer is yes
the first step is to decide on your project and write down a project statement or statement of intent. It really does focus your attention on what images you need to capture.
If you decide on a location near to your home you will be able to revisit it at different times of the day and year to get your images.
There's nothing wrong with setting yourself a project abroad you just need to be highly focussed, when you are there, on your objective and ensure you capture the pictures you need. Digital imaging along with its instant playback of images on your camera's monitor is a great help in this respect.
In general terms, apart from the rare exception, possibly the worst thing you can do is to put together a panel from existing well-worn images. By all means let one or two images act as a trigger for your project. However it's far better to go out and capture new images in line with your project statement.
Remember successful panels are built from ideas that are cultivated. Good luck with your Travel photography and panels.
Leo Palmer FRPS
(Travel Panel Chair)
……………………………………